Even if you have stubborn curly hair, you can create a delightful hairstyle with it. In fact, wavy and curly haircuts are very trendy now. Even older women can create cute hairstyles on the go if having this type of hair. So, today we're going to reveal a couple of secrets on how to do hairstyles for 40 year old woman with curly hair look trendy and stylish.
Do you know that feeling when you touch your curly hair in the wrong way and it goes crazy? This is why you should have a list of easy, but cute hairstyles for the moments when your hair is really stubborn or the weather isn't that great.
So, let's have a look what you can do with your hair at home under 5 minutes only.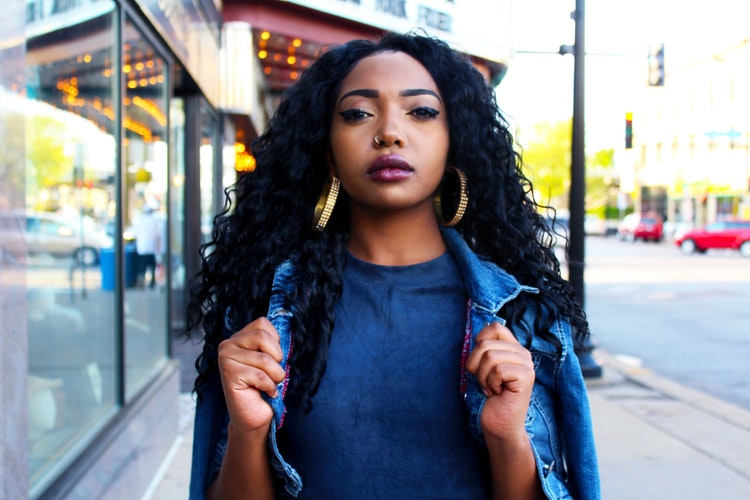 3 Hairstyles for Curly Hair You Can Do at Home
The following hairstyles will suit the owners of medium and long hair. If you have a short curly haircut, it is already easier to style it than those two ones. That's why we've decided to pay attention to long hairstyles only.
Here's what you can do under 5 minutes.
Milkmaid braid. The fastest way to create an interesting put together look is by making a milkmaid braid. Create two equal pigtails, braid them, and tie with a small elastic. Fold one braid over the scalp and secure it with several bobby pins. Repeat it with the second braid.
Romantic bun. Gather your hair and pull it really high on the top of your head. Put it in a bun, but leave some pieces out in the front of the forehead and at the ends of the bun. Then, take the pieces of the ends that you've left and slightly pull them towards, creating the illusion of the bangs. A romantic bun is all about manipulating with your hair until you're absolutely happy with how it looks. So, pull out as many pieces from the bun as you want. You can take some pieces and tuck them back if you don't like how the bun looks like. Play with this hairstyle until you're satisfied with the final result.
One-side braid. Part your hair over to the side you prefer more, take a small section on the less volume side and do a French braiding. Once your braid reaches the nape of the neck, secure it with a few bobby pins. Thus, one side is going to be fully braided, and on the other side, your hair is going to have lots of volume.
Hopefully, this article is inspirational enough for you to experiment with your own hair at home. Don't be afraid to try new hairstyles for 40 year old woman with curly hair if you want to refresh your look without additional expenses and spending hours on doing that.